Welcome
to the official website of
Meagan Browning

http://meaganbrowning.tripod.com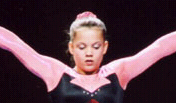 Please sign the guestbook!


All About Meagan
>> Biography
Learn more about Meagan.

>> Results
Scores and placings from past meets.

>> Interview
Read an exclusive interview with Meagan!

>> Ask Meagan
Got a question for Meagan? Ask it here!

>> Schedule
A list of meets Meagan may attend

>> Skills
Some of Meagan's gymnastics skills.

>> Favorites
All of Meagan's top picks.

Recent Updates

December 1, 2002:
Two new photos from 2001 US Classic have been added thaks to Don Johnson.

November 30, 2002:
Meagan has made some updates to her favorites and interview pages.

November 29, 2002:
Our first artwork has been added. Also, we hope everyone had a happy Thanksgiving!

November 16, 2002:
A new poll has been added and a new photo has been put up on the main page.

November 10, 2002:
The biography has a few new details and two new AIM icons have been added.




Multimedia
>> Photos
Catch a glimpse of Meagan at the gym or a competition.

>> Videos
Mpegs for you to download!

>> Wordsearch
A fun puzzle to print out and solve.

>> AIM Icons
Cool buddy icons for you.

>> Diary
Read Meagan's online journal.

>> Meet Comments
Descriptions of Meagan's past performances.

>> Wallpaper
Decorate your computer screen with Meagan.

>> Quiz
Take this fun quiz.

Other Stuff
>> Brown's
Learn about Meagan's gym and teammates.

>> Forum
Post your questions or comments here.

>> Artwork
Drawings, paintings, collages, etc.

>> Opinions
Elite gymnasts descriptions of Meagan.

>> Contact
Send Meagan fan mail!

>> Support
Support Meagan by adding this banner to your website!

>> Links
A few other gymnastics sites.

>> Info & Credits
Basic info about this site and a thank you to all who have submitted content to it.