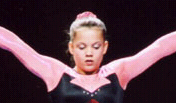 WELCOME! Thank you for stopping by the official website of Meagan Browning. This talented young athlete has come a long way in a short time and is currently a successful elite gymnast training at Brown's Gymnastics Facilitiy in Texas. Meagan surprised many when in 2001 she earned a spot on the National team. She impressed judges and fans alike with powerful skills on all events. Meagan is a solid all-arounder, yet many would say she is strongest on the uneven bars. Her resume of skills includes a daring double layout full out bars dismount! Unfortunately, Meagan was sidelined with an injury for a portion of her 2002 competitive season and was unable to compete at the National Championships. Despite this setback, she is overcoming obstacles with a hope for future success. Without a doubt, Meagan's drive for achievement can take her far.

Born January 8, 1988, this young gymnast has a focused demeanor at the gym, and she also has a great character in all she does outside of her gymnastics. With her positive outlook on life, talent in gymnastics and strong will, Meagan has proved that she has a lot to offer to the world of gymnastics. Thank you once again for visiting Meagan's Official Website, and keeping up with her latest details. If you have a moment, it would be truly appreciated of you to please sign the guestbook. Remember to keep checking back at Meagan's website as it will be updated frequently with the latest information on her competitions, and gymnastics achievements.


The Official Website of Meagan Browning © 2001-2003 Meagan Browning and the webmaster. A big thanks goes to Don Johnson for suppling the photos on the main page.

>> RECENT UPDATES

March 3, 2003: A video from the 2002 U.S. Classic has been added.

March 2, 2003: Some new photos have been added to the miscellaneous photo gallery.

February 24, 2003: An upcoming competition has been added to Meagan's schedule.

>> CURRENT FEATURE

2003 WOGA Classic Photos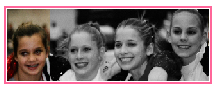 Thanks to Amy Lansdown, we have added a few photos from the 2003 WOGA Classic of Meagan and some of her teammates and friends. You may view these pictures, as well as the others in the miscellaneous gallery here.